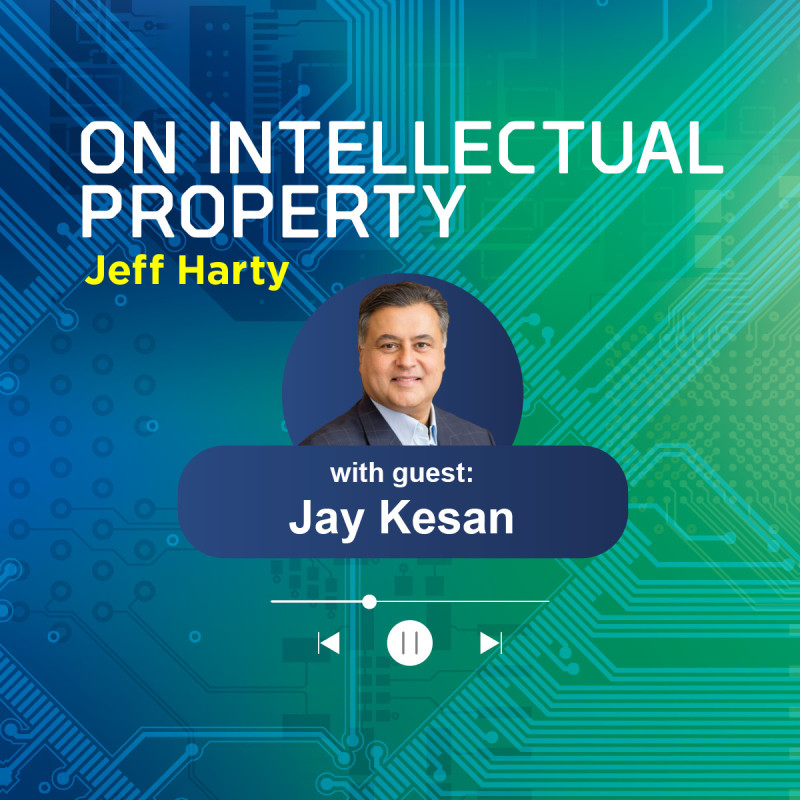 The PTAB and the Impact of Post-Issuance Invalidity Proceedings with Jay Kesan
It is rare to find someone in the field of intellectual property, in particular patent law, who is a scholar and a practitioner. Today, we have with us Jay Kesan who is both. Listen in for a great episode full of information about the PTAB (Patent Trial and Appeal Board) and the impact it has had on the patent system after 10 years.
In this episode, Jeff Harty and Jay Kesan discuss:
Jay's professional career as both a law professor and a practicing patent attorney/litigator.

The impact of IPRs and PGRs on the patent system.

Challenging the validity of a patent in an IPR proceeding versus district court litigation.
Key Takeaways:
The PTAB was created

as an alternative forum for challenging issued patents. It was hoped that the PTAB would provide a lower-cost means of challenging already-issued patents

.

In the past few years, the number of patent validity challenges has leveled out to about 1,500 IPRs per year.

The vast majority of IPRs involve parallel district court infringement actions.

The USPTO, under its new director, has issued new guidelines for discretionary denials of PTAB proceedings. A fair comment, at this stage, would be that these discretionary denials are only going to continue to decrease even when there is parallel district court litigation.
"If you're a patent owner and you believe that your patents are being infringed and you're contemplating an infringement action, you have to take into account the new world that you have to deal with." — Jay Kesan
About Jay Kesan:
Jay P. Kesan, Ph.D., J.D., is a well-recognized and accomplished patent attorney with more than 25 years' experience. His work encompasses all aspects of patent enforcement, patent strategy, and licensing. He has been lead counsel or co-counsel in numerous patent lawsuits in various federal district courts around the country. He has argued numerous appeals before the Court of Appeals in the Federal Circuit. He has also served as lead counsel in more than 30 IPRs and argued several times before the PTAB. He has been actively involved in every aspect of patent litigation as counsel, Special Master, appellate counsel, technical expert, legal expert, and mediator.
Jay has a Ph.D. in electrical and computer engineering from the University of Texas at Austin and worked for several years as a research scientist at the IBM Thomas J. Watson Research Center. As a result, he works with clients on IP disputes that involve a wide variety of technologies and innovations.
Jay is also an active empirical scholar, and his recent works have focused on cyber risk and patent policy. He has published numerous articles and six books on patent law and policy and cybersecurity and privacy with an emphasis on empirical research methodologies.
He is a professor and H. Ross and Helen Workman Research Scholar at the University of Illinois at Urbana-Champaign. He is an active and widely cited scholar.
Connect with Jay Kesan:
Website: https://jaykesan.com/
Email: jay@jaykesan.com
Books: https://jaykesan.com/books/
Twitter: https://twitter.com/JayKesanP
LinkedIn: https://www.linkedin.com/in/jaykesan/
YouTube: https://www.youtube.com/channel/UCENwROk5ywajSVoJWUX9SBA/featured
Connect with Jeff Harty:
Website: https://nyemaster.com/attorney-directory/jeffrey-d-harty/
Email: jharty@nyemaster.com
LinkedIn: https://www.linkedin.com/in/jeff-harty-5a9a1643/