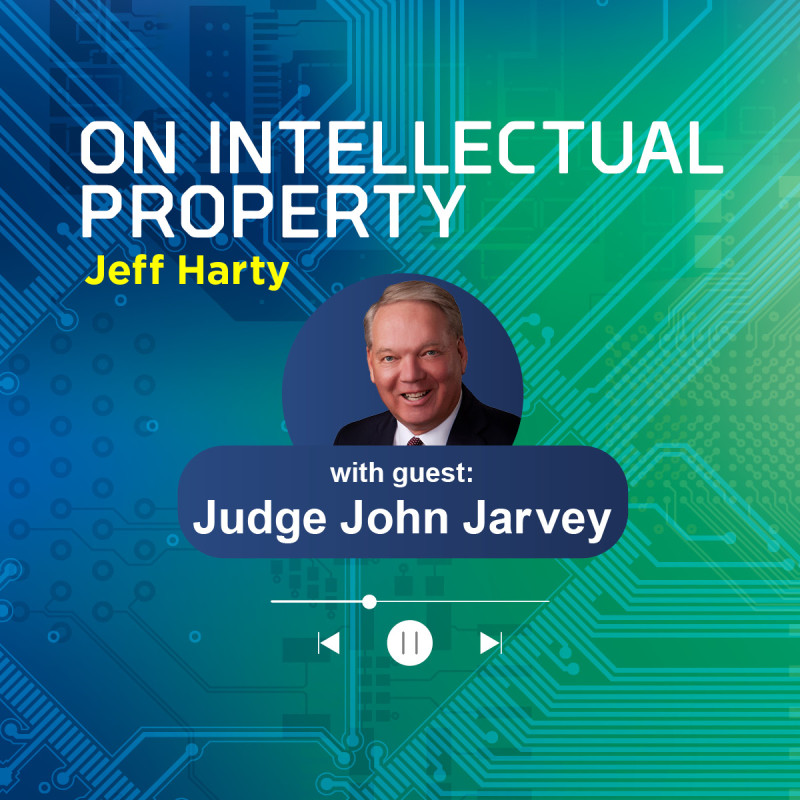 Insights on IP Cases with U.S. District Court Judge John Jarvey
In today's episode, retired U.S. District Court Judge John Jarvey talks about his time on the bench dealing with intellectual property cases, his background, and his work now helping parties resolve disputes through mediation. He has insights on what works in the courtroom and motion practice in IP disputes. He also has experience resolving disputes through mediation and is in a position to share how clients and their counsel can make the most of that process.
In this episode, Jeff Harty and Judge John Jarvey discuss:
Judging, mediating, and evaluating cases.

The importance of subject-matter expertise in evaluating IP cases.

The important things to remember when presenting an IP case to a jury.
Key Takeaways:
When people craft a solution to their own problems, they are happiest, most satisfied, and get the most satisfaction out of the process.

There is value in having subject-matter expertise when it comes to assertions in the law, as most federal district court judges do not routinely handle IP disputes.

Regardless of the technology in an IP case, presenting a story to the jury that resonates and plays on certain emotions is key.

Patent trials can be structured in various ways to help jurors better understand the dispute and the issues they are asked to decide.
"What's really important to remember is that there are certain emotions that always play well with jurors, and an emotional issue, such as theft of any property, is the same thing to jurors as the theft of an idea. Focusing always on the big picture of what the ultimate wrong was, is very helpful for jurors in these cases." — Judge John Jarvey
About Judge John Jarvey:
Judge Jarvey was a trial attorney for the Criminal Division of the U.S. Department of Justice from 1983 to 1987. As a prosecutor, he specialized in fraud in the pharmaceutical industry. He taught trial advocacy at the University of Iowa College of Law and mock trial at Cedar Rapids Washington High School.
Judge Jarvey was a U.S. magistrate judge of the U.S. District Court for the Northern District of Iowa from 1987 to 2007. As a magistrate judge, he presided over more than 300 civil jury and nonjury trials. He was primarily responsible for civil and criminal case management and conducted more than 400 mediations. His civil jury experience includes patents, copyrights, and other complex commercial disputes. It also includes many civil rights trials alleging police excessive force, prisoner rights, and other claims against public officials.
As a U.S. district judge, Judge Jarvey presided over more than 100 civil and criminal jury and nonjury trials. His civil jury trial experience includes a wide range of complex cases.
Connect with Judge John Jarvey:
Email: john@golawpc.com
Phone: 319-360-1122
Connect with Jeff Harty:
Website: https://nyemaster.com/attorney-directory/jeffrey-d-harty/
Email: jharty@nyemaster.com
LinkedIn: https://www.linkedin.com/in/jeff-harty-5a9a1643/