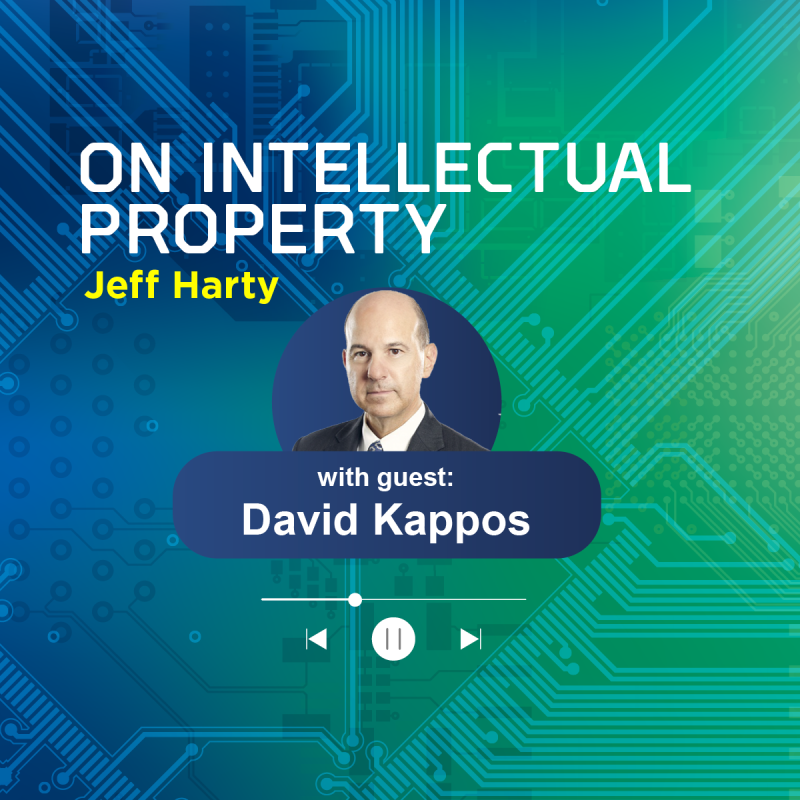 The Role of IP Systems in Maintaining a Strong Innovation Economy with David Kappos
Our featured guest is one of the most respected and influential voices in intellectual property, particularly as it relates to innovation and patent policy. David Kappos has had a distinguished career steeped in leadership roles and IP. In this episode, he talks about how IP inspires him, the intersection of IP and government, the importance of maintaining strong IP systems in the United States, and the complicated topic of patent-eligible subject matter.
In this episode, Jeff Harty and David Kappos discuss:
How IP continues to motivate and inspire David in his career.

How a strong patent system drives important investments in new technologies.

Threats to intellectual property in the United States.

Patent-eligible subject matter.
Key Takeaways:
IP is a key to solving all of the world's most daunting problems.

Consumers must be prepared to pay higher prices in the short term for new and innovative products protected by patents. However, it's a long-term game, not about what is happening now.

The Council for Innovation Promotion is helping to provide transparency and visibility into what those in Washington, D.C., are doing for and against intellectual property and the patent system.

The law of subject matter eligibility for patents is confusing and unclear. Innovation tends to lag in the technology areas most affected, hurting U.S. companies and innovators.
"If we, the U.S., want to continue to lead the world in opportunity, and if we, the world, want to improve our condition for humans and the planet more generally, we have to have a strong and effective IP system." —David Kappos
About David Kappos:
David J. Kappos is widely recognized as one of the world's foremost leaders in the field of intellectual property, including intellectual property management and strategy, the development of global intellectual property norms, laws, and practices, as well as the commercialization and enforcement of innovation‑based assets. A partner at Cravath, Swaine & Moore LLP, David handles complex intellectual property issues, including those pertaining to the blockchain, crypto assets, and fintech, as well as data security and privacy. From August 2009 to January 2013, he served as Under Secretary of Commerce and director of the United States Patent and Trademark Office (USPTO). Among his numerous awards, David was named one of the Top 25 Icons of IP by Law360, Outstanding Practitioner of the Year in IP
Transactions by Managing IP, one of the 100 Most Influential Lawyers in America by The National Law Journal, and was inducted into the Intellectual Property Hall of Fame by
Intellectual Asset Management Magazine in 2012.
Connect with David Kappos:
Website: https://www.cravath.com/people/david-j-kappos.html
LinkedIn: https://www.linkedin.com/in/david-kappos-57166113/
Council for Innovation Promotion Website: https://c4ip.org/
Council for Innovation Promotion Twitter: https://twitter.com/Council4IP
Connect with Jeff Harty:
Website: https://nyemaster.com/attorney-directory/jeffrey-d-harty/
Email: jharty@nyemaster.com
LinkedIn: https://www.linkedin.com/in/jeff-harty-5a9a1643/