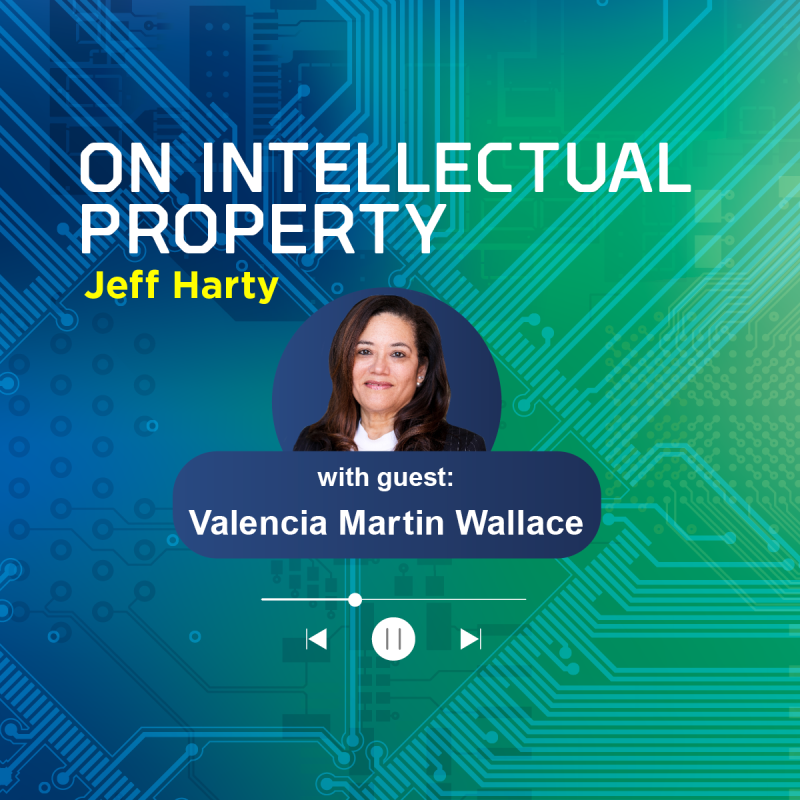 Unlocking the Potential for All Americans to Participate in the Innovation Ecosystem with Valencia Martin Wallace
In this episode, Valencia Martin Wallace and I do a critical examination of our innovation ecosystem and how we can make it more diverse and inclusive. Valencia is the Deputy Commissioner for Patents for the U.S. Patent and Trademark Office (USPTO) and is the executive lead for the USPTO's Council for Inclusive Innovation (CI2). Valencia shares data regarding how women and minorities are underrepresented in the innovation ecosystem. You can feel her passion for the topic and for strengthening the innovation and IP community as a whole.
In this episode, Jeff Harty and Valencia Martin Wallace discuss:
Valencia's passion for growth and support in the IP community.

The creation of CI2 and why it is necessary.

The benefits of having a more diverse innovation ecosystem.

Strategies and initiatives to build a more diverse and inclusive innovation ecosystem by encouraging participation demographically, geographically, and economically.
Key Takeaways:
While 30 percent of engineers and scientists who are working professionally are women, less than 12 percent have their names on patents.

The story does not end when an invention is patented—it takes a community to take the patented invention further into commercialization and usage.

By closing the gender gap, $12–$28 trillion can be added to the global economy.

Innovators are not created; they are born. It is a matter of helping those innovators get a rich education and giving them opportunities to help not only themselves, but also the nation.
"It takes a community to move forward in every field but especially when integrating technology and law." — Valencia Martin Wallace
About Valencia Martin Wallace:
As deputy commissioner for patents, Valencia manages and leads the USPTO's efforts related to international IP harmonization and provides executive oversight over patent-examining functions in the technologies of communication, mechanical engineering, manufacturing, and medical devices and processes. She provides executive leadership on international patent legal issues and various work-sharing efforts with international partners.
Valencia is the executive lead for the USPTO's Council for Inclusive Innovation (CI2). The CI2 will help guide the USPTO in developing a comprehensive national strategy to build a more diverse and inclusive innovation ecosystem.
As deputy commissioner for patent quality, Valencia was responsible for sustaining the quality of the patent examination processes and products. In her 28-year career at the USPTO, she also oversaw software technology centers, served as executive co-lead on the implementation of the AIA First-Inventor-to-File statutory framework, and led the implementation of the Office of Patent Examination Support Services.
Valencia earned a bachelor of science in electrical engineering from Howard University and a juris doctorate from The George Washington University School of Law. She also has a certificate in Advanced Public Administration from Syracuse University's Maxwell School of Public Administration.
Connect with Valencia Martin Wallace:
USPTO: https://www.uspto.gov
LinkedIn: https://www.linkedin.com/in/valencia-wallace-738502122/
Other References:
USPTO Inclusive Innovation: https://www.uspto.gov/initiatives/equity
Council for Inclusive Innovation: https://www.uspto.gov/initiatives/equity/ci2
Black Innovation and Entrepreneurship Program: https://www.uspto.gov/about-us/events/black-innovation-and-entrepreneurship
Patent Pro Bono Program: https://www.uspto.gov/patents/basics/using-legal-services/pro-bono/patent-pro-bono-program?MURL=probonopatents
Connect with Jeff Harty:
Website: https://nyemaster.com/attorney-directory/jeffrey-d-harty/
Email: jharty@nyemaster.com
LinkedIn: https://www.linkedin.com/in/jeff-harty-5a9a1643/