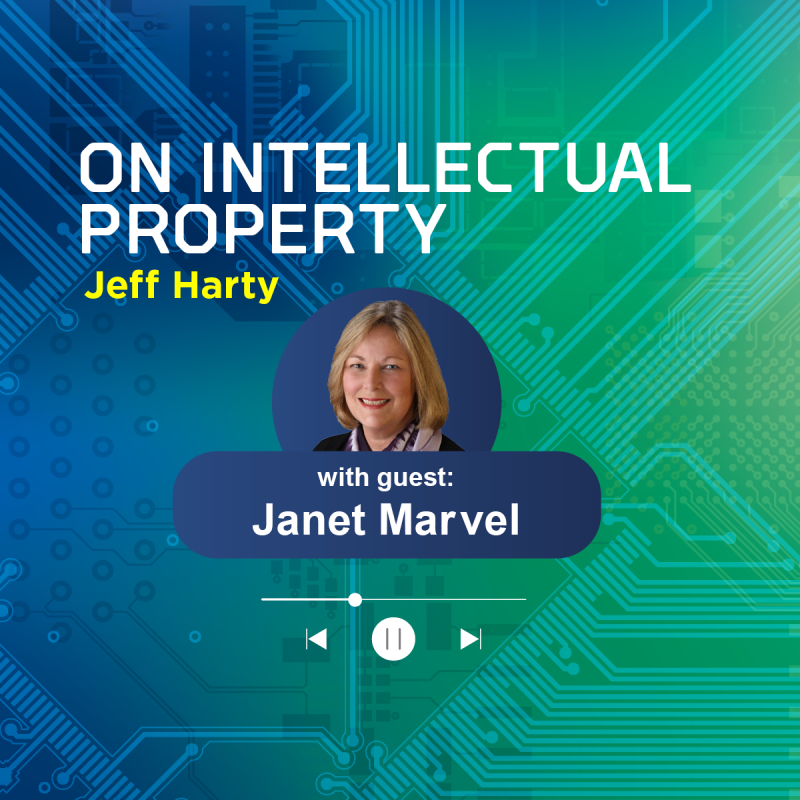 The Power of Brands and Balancing the Rights of Trademark Owners with Society's Interest in Free Expression with Janet Marvel
For trademark owners, increasing brand recognition can sometimes be a mixed blessing. Well-known marks can start to be more than just strong source identifiers. They can be the targets of parody, criticism, social commentary, and other uses that go beyond the consumer goodwill attached to a mark. Concerns about free expression and free speech start to enter the equation. Featured guest Janet Marvel helps unpack the interplay between recognizing trademark rights while protecting expression that falls within the purview of the First Amendment. She's a talented and experienced trademark practitioner, instructor, and author. We are fortunate to have her share her knowledge and insights on this area of trademark law.
In this episode, Jeff Harty and Janet Marvel discuss:
Brand essence and the power of brands.

Developing a good brand strategy.

Counterfeiting and e-commerce.

The balance between free speech and trademark protection.
Key Takeaways:
Trademarks provide valuable functions for both consumers and sellers of goods and services.

You have to think about a global stage for your major business operations and trademark strategy, not just your local country.

The U.S. Ninth Circuit Court has gone from artistic work to expressive work in its interpretation of the

Rogers

case. It is possible that they have expanded their view of First Amendment protection too far. We look forward to the Supreme Court soon providing guidance in the

Jack Daniels

case.
"Protecting your trademarks, in that respect of thinking about stopping counterfeiters, is important. You can't stop a counterfeiter under the federal statute without a registration. So you want to have a registration, and you want to think about where you're manufacturing." —Janet Marvel
About Janet Marvel:
Pattishall partner Janet Marvel protects brands, copyrighted works, and domain names throughout the world. She has been charged with protecting the trademarks of world-famous brands, such as Ford, Pepsi, Harlequin (romance novels), and Mattel. She even protects the famous Cheesehead hat on view during the NFL season when the Green Bay Packers play.
As part of her practice, Janet represents plaintiffs and defendants in a wide variety of disputes involving trademark, copyright, rights of publicity, breach of contract, unfair competition, and false advertising. She has successfully tried cases and litigated around the country in state and federal courts and before the U.S. Patent and Trademark Office. In a notable case, she successfully defended a small company's ownership of the Brawny mark for plastic bags against an all-out attack in two federal courts and the Trademark Trial and Appeal Board. She also developed expert testimony for the Internal Revenue Service in a $262 million case involving evaluation of assets of the Carnation Company. She handled the acquisition of the famous CURAD mark.
When she is not working, you will probably find Janet hiking—often north of the Arctic Circle. Janet's travel has included backpacking trips to Canada's Ellesmere Island (at 80 degrees north latitude, accessible just three weeks a year), Gates of the Arctic National Park, and the Arctic National Wildlife Refuge.
Connect with Janet Marvel:
Website: https://www.pattishall.com/
Email: jmarvel@pattishall.com
Connect with Jeff Harty:
Website: https://nyemaster.com/attorney-directory/jeffrey-d-harty/
Email: jharty@nyemaster.com
LinkedIn: https://www.linkedin.com/in/jeff-harty-5a9a1643/