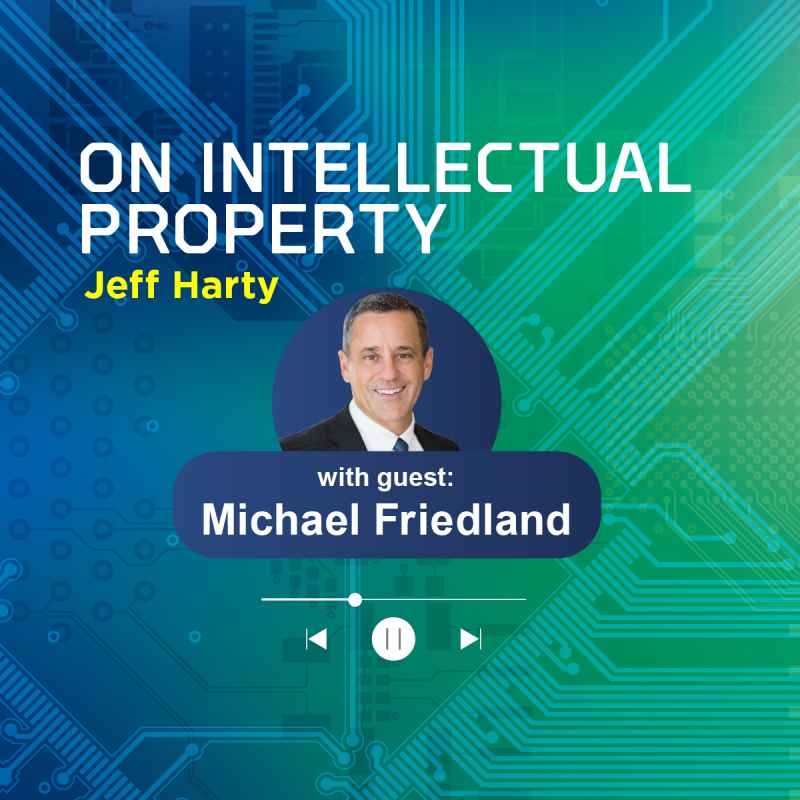 Effective Advocacy in Markman Claim Construction Proceedings with Michael Friedland
We're taking a critical look at one of the most important parts of a patent case: claim construction. Michael Friedland, co-chair of Knobbe Martens' litigation practice group, is uniquely qualified to help us unpack claim construction, advocacy, and the importance of natural language—utilizing plain and ordinary meanings when urging proposed constructions of disputed claim language.
In this episode, Jeff Harty and Michael Friedland discuss:
The role of claim construction in a patent dispute.

Balancing the simplification of technology so a judge can understand it without simplifying to the point of inaccuracy.

Knowing your audience and changing your approach to the court.

The role of expert testimony in claim construction (and when not to use an expert).
Key Takeaways:
Keep it clear, keep it simple, and work together with the court to sort out any confusion regarding the relevant technology and to adopt the proper interpretation of the claim language.

Start giving claim construction serious thought when you first look into the case, even before it is filed.

A good brief can help somebody pick which claim construction to use and help them get it right.

The simpler claim construction is often the one that wins. An expert is someone outside your control and can cause confusion when it wasn't necessary based on the record you already have.
"I want whatever we are doing to seem simple, natural, and not contrived." —Michael Friedland
About Michael Friedland:
Mike has three decades of intellectual property enforcement experience and is the co-chair of Knobbe Martens' litigation practice group. Since 2000, he has represented clients in more than 200 intellectual property cases in courts in California and 21 other states.
Focused on patent, trademark, trade secret, and copyright matters, Mike's cases have spanned a range of industries and technologies, including consumer products, semiconductors, tactical products, medical devices, computer software, apparel, restaurants, and financial services.
He has represented brand-name companies including Oakley, Luxottica, ITT, Makita, Pacific Life Insurance Company, Carl's Jr., Microsemi, NASCAR, Daytona International Speedway, Game Show Network, Razor, Volcom, Specialized Bicycle, Mexicana Airlines, and SRS Labs.
Mike is the secretary of the Harvard Law School Association and a member of its executive committee. He is a co-founder and former president of the Harvard Law School Association of Orange County. He is a member of INTA's Alternative Dispute Resolution Committee. Mike has taught as an adjunct professor at the Whittier School of Law and served as a JAG officer with the California State Military Reserve. He worked as a reserve deputy with the Orange County Sheriff's Department for 16 years, retiring as a lieutenant.
Connect with Michael Friedland:
Website: https://www.knobbe.com/
Website: https://www.knobbe.com/attorneys/michael-friedland
Email: michael.friedland@knobbe.com
LinkedIn: https://www.linkedin.com/in/michael-friedland-43a76a1/
Connect with Jeff Harty:
Website: https://nyemaster.com/attorney-directory/jeffrey-d-harty/
Email: jharty@nyemaster.com
LinkedIn: https://www.linkedin.com/in/jeff-harty-5a9a1643/