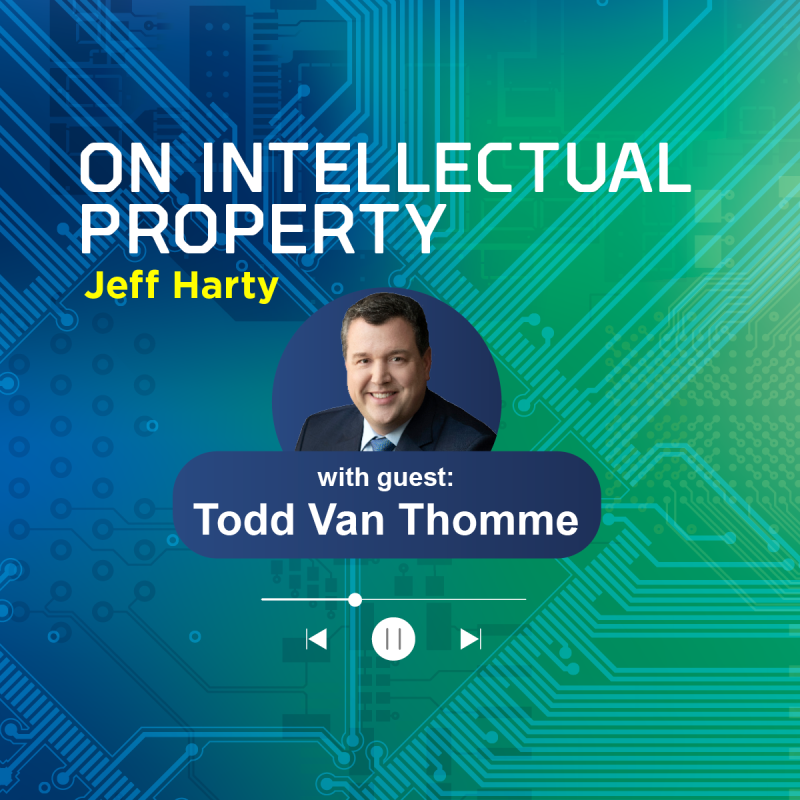 A Strategic Approach to Patent Prosecution with Todd Van Thomme
This is a particularly special episode for me because I'm joined by friend and colleague Todd Van Thomme. When you feel stuck in your work, you need a fresh idea or a new way to think about an issue. A colleague you can turn to for help, guidance, or a new way to frame the issue can lead you toward solving your problem. When it comes to protecting inventions, patent prosecution, and building strong portfolios, Todd is right at the top of my go-to list. I know from experience working with Todd that he always prosecutes patents with a strategy in mind and a purpose. That is what he is going to share with us.
In this episode, Jeff Harty and Todd Van Thomme discuss:
Todd's unique journey to the intellectual property field.

The early stages of IP for preserving and maintaining the right.

Best practices for application success.

Taking a collaborative approach with the examiner.
Key Takeaways:
Listen as much as possible. It is crucial to understand the client's business and goals.

When developing an IP portfolio, sometimes the failures help to define the better way to write the application or story. It helps to understand how the client reached that point and the possible scope of their invention.

Although conducting an examiner interview may cost a little more upfront in the IP application process, it very well may save considerable money later as it often speeds up the application and examination process.

There is value in tapping someone who primarily does patent litigation to get a different viewpoint on protecting inventions.
"If I had my choice, I'd conduct an interview in virtually every case. It fosters some of that collaborative interaction with the examiner. Most examiners, I think, are willing to have those kinds of conversations at virtually every stage." —Todd Van Thomme
Episode References:
About Todd Van Thomme:
An inventor and entrepreneur, Todd Van Thomme's experience with his own start-up company helps him understand both the legal challenges and the day-to-day issues of running a business.
In his intellectual property practice, Todd partners with clients to identify and collaborate on mechanical, chemical, nutraceutical, pharmaceutical, and food science-related intellectual property needs. He drafts and prosecutes both utility and design patent applications. He also drafts patentability, non-infringement, and invalidity opinions, especially for patents and patent applications. He counsels clients on how to avoid IP disputes and works with clients to resolve them when they do occur. Todd also prepares, files, and prosecutes trademark applications.
His combination of legal and entrepreneurial experience brings unexpected benefits for clients. As a former secondment in-house counsel for Whirlpool Corp. and the inventor and owner of Giftzapz, a patent pending gift list-sharing app, Todd has gained a client's perspective of a business.
As president of the Association of Intellectual Property Firms, Todd developed close personal relationships with thought leaders in the larger intellectual property legal community around the world. He uses those personal connections to aid clients in protecting their IP worldwide, taking a globally strategic view of patent and trademark prosecution.
Connect with Todd Van Thomme:
Website: https://nyemaster.com/attorney-directory/todd-a-van-thomme/
Email: tvanthomme@nyemaster.com
LinkedIn: https://www.linkedin.com/in/toddvanthomme/
Connect with Jeff Harty:
Website: https://nyemaster.com/attorney-directory/jeffrey-d-harty/
Email: jharty@nyemaster.com
LinkedIn: https://www.linkedin.com/in/jeff-harty-5a9a1643/