COVID-19: Need-To-Know Legal Insights
April 1, 2021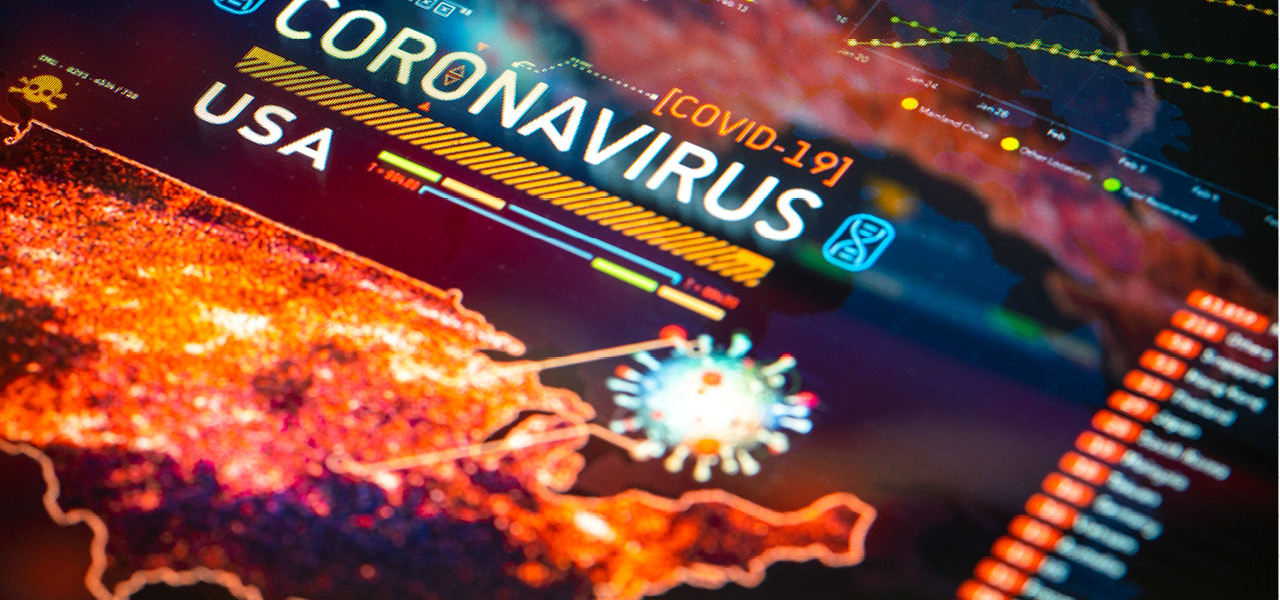 AS THE PANDEMIC SITUATION EVOLVES, the legal landscape shifts. Nyemaster Goode's attorneys continually review the latest information to offer clients clear guidance. These articles address a diverse range of legal issues related to COVID-19, including labor and employment policies, small business relief efforts, workers compensation, contract questions, disaster loans, and other business concerns.
Links to Nyemaster Goode's coronavirus and COVID-19 coverage provide legal summaries, analysis, and details of specific programs. The COVID-19 Rapid Response Team updates information on an ongoing basis. Scroll down to contact a team member or any Nyemaster attorney.
CARES ACT & PPP
CARES ACT OFFERS SMALL BUSINESS FINANCIAL ASSISTANCE
A series of articles offering a look at certain financial assistance available to businesses under the Coronavirus Aid, Relief and Economic Security Act of 2020. Topics include a review of the Paycheck Protection Program, the Federal Reserve Board's Main Street Lending program, various financing options, and tax implications.
PAYCHECK PROTECTION PROGRAM RESOURCE CENTER
A collection of articles looking at multiple elements of the PPP.
WORKFORCE MATTERS
LATEST STIMULUS EXTENDS TAX CREDITS FOR LEAVE
March 12, 2021
The latest stimulus package recently signed by President Biden extends tax credits for paid sick leave and paid family leave previously offered under the FFCRA.
LEGAL PITFALLS OF WORKING FROM HOME: WHERE "HOME" IS MATTERS
January 21, 2021
Employers should take stock of where their employees are physically located when "working from home" as state laws vary greatly.
NEW COVID STIMULUS BILL EXTENDS FFCRA TAX CREDITS, BUT NOT THE FFCRA MANDATE
December 21, 2020
The COVID stimulus package passed in late 2020 clarifies the status of the Families First Coronavirus Response Act (FFCRA) .
CAN EMPLOYERS MANDATE VACCINES?
December 18, 2020
As vaccines are being rolled out, many employers are exploring whether they can, or should, mandate their employees be vaccinated.
LEAVE LAWS IN THE AGE OF COVID: WHAT EMPLOYERS NEED TO KNOW
September 21, 2020
When the Families First Coronavirus Response Act (FFCRA) took effect in April of this year, many employers were dealing with the crises of sending employees home to work. The paid leave provisions in the FFCRA were critical. These provisions remain important and perhaps have new implications this fall as employees return to brick and mortar locations and their children return to learning.
DOL ISSUES AMENDED FFCRA REGULATIONS IN RESPONSE TO NEW YORK FEDERAL COURT RULING
September 14, 2020
On September 11, 2020, the U.S. Department of Labor's Wage and Hour Division announced amendments to regulations that implement the paid sick leave and expanded family and medical leave provisions of the Families First Coronavirus Response Act (FFCRA).
OSHA ISSUES COVID-19 RETURN TO WORK GUIDANCE
July 2, 2020
New guidance from the Occupational Safety and Health Administration updated earlier direction and provides a useful checklist for re-opening employers.
OSHA UPDATES AND SUPERSEDES APRIL 2020 COVID-19 RECORDKEEPING REQUIREMENTS
July 2, 2020
The Occupational Safety and Health Administration has updated and superseded its April 2020 guidance regarding employers' record-keeping requirements for COVID-19 cases in the workplace.
WEBINAR: GETTING BACK TO WORK IN THE CORONAVIRUS ERA
May 4, 2020
Watch our May 1 webinar on preparing your workplace for a post-pandemic world. Issues covered include developing a master plan for returning to work; the employer's duty to maintain a safe workplace; OSHA, workers' comp and tort risks; and FMLA, ADA and FFCRA complications of moving too fast or too slow.
RETURNING TO WORK: AVOIDING WORKPLACE TORT CLAIMS
April 23, 2020
For employees who have remained at work and for those who are just returning, employers should be aware of two potential tort claims as they prepare for a post-pandemic workplace.
OSHA ANNOUNCES ITS COVID-19 ENFORCEMENT PRIORITY INITIATIVE: ARE YOU READY?
Apirl 17, 2020
Regardless of the timing for remotely working Iowans to begin the migration back to their workplaces, employers should now re-examine their workplace safety protocols as they navigate the pandemic.
OSHA CLARIFIES COVID-19 RECORDKEEPING REQUIREMENTS
April 17, 2020
A look at the Occupational and Safety Health Administration's new guidance clarifying employers' record-keeping requirements for COVID-19 cases and what it means.
THE LEGAL IMPLICATIONS OF GETTING BACK TO WORK
April 16, 2020
When the economy eventually gets turned back on, employers will face a host of new legal issues and challenges when "getting back to work." In an article in the Des Moines Business Record, Nyemaster attorney Frank Harty outlined some of the legal implications of bringing a workforce back to full steam.
IMPLICATIONS FOR WORKERS' COMPENSATION LIABILITY WHEN EMPLOYEES WORK FROM HOME
April 14, 2020
No direct authority addresses remote-work scenarios and workers' compensation during the COVID-19 pandemic. Employers should take guidance from cases with similar general issues.
WHAT EMPLOYERS SHOULD REQUIRE WHEN EMPLOYEES REQUEST FFCRA LEAVE
April 2, 2020
Recent guidance from both the Department of Labor and the IRS clarify what employers need to request from employees to substantiate the need for leave under FFCRA and justify efforts to secure applicable tax credits.
DEPARTMENT OF LABOR'S NEW COVID-19 POSTER REQUIREMENT
March 26, 2020
The U.S. Department of Labor will require that employers post notice of employee rights under the new Families First Coronavirus Response Act (FFCRA).
DOL GUIDANCE SUGGESTS FFCRA TO GO INTO EFFECT APRIL 1, NOT APRIL 2
March 25, 2020
The U.S. Department of Labor (DOL) Wage and Hour Division released a Question and Answer Guidance Page concerning the Families First Coronavirus Response Act ("FFCRA").
COVID-19: WORKERS' COMPENSATION IMPACT
March 24, 2020
In the course of a pandemic, the causal connection between work and virus contraction is a concern for Iowa employers.
COVID-19 LABOR & EMPLOYMENT WEBINAR
COVID-19 LABOR & EMPLOYMENT WEBINAR SLIDES
March 20, 2020
The Nyemaster Goode Labor & Employment team presented a webinar addressing employer obligations and best practices during the COVID-19 pandemic, including employment law changes under the Families First Coronavirus Response Act.
NEW COVID-19 FAMILIES FIRST CORONAVIRUS RESPONSE ACT: EXPANDING FMLA AND REQUIRING PAID SICK LEAVE
March 19, 2020
The Families First Coronavirus Response Act was passed by Congress and signed into law by the president. The act is primarily an economic stimulus package. Two sections have generated numerous employer questions: an emergency temporary expansion of the Family and Medical Leave Act (FMLA) and a new federal paid sick leave law, each pertaining to employees affected by COVID-19 and those serving as caregivers for others with COVID-19.
CORONAVIRUS IN IOWA: WHAT EMPLOYERS SHOULD BE DOING
March 11, 2020
As the novel coronavirus has spread, it has established itself as a matter of international concern. Employers should consider updating these policies in light of the coronavirus outbreak.
PROGRAMS FOR SMALL BUSINESSES
SBA LAUNCHES RESTAURANT REVITALIZATION FUND
April 28, 2021
As part of the implementation of the American Rescue Plan Act, the Small Business Administration is awarding funding through the Restaurant Revitalization Fund to eligible applicants.
FACEBOOK INTRODUCES SMALL BUSINESS GRANTS PROGRAM
April 21, 2020
Information about the Facebook Small Business Grants Program, which offers up to $100 Million in cash grants and ad credits to up to 30,000 eligible small businesses.
TARGETED SMALL BUSINESS SOLE OPERATOR FUND
March 26, 2020
The Targeted Small Business program helps women, individuals with minority status, service-connected disabled veterans, and individuals with disabilities overcome hurdles to start or grow a small business in Iowa. Businesses experiencing disruption due to the COVID-19 pandemic may be eligible for a grant.
IOWA SMALL BUSINESS RELIEF PROGRAM LAUNCHES
March 24, 2020
Applications for financial assistance under the new Iowa Small Business Relief Program are now available on the Iowa Economic Development Authority website. The application deadline is March 31, 2020 at 12:00 p.m.
SBA OFFERS FEDERAL DISASTER LOANS
March 23, 2020
The U.S. Small Business Administration (SBA) is offering low-interest federal disaster loans for working capital to small businesses suffering substantial economic injury as a result of the coronavirus.
ONGOING BUSINESS SITUATIONS
EPA OFFERS GUIDANCE IN RESPONSE TO COVID-19 ON FIELD SITE WORK FOR REMEDIATION
April 17, 2020
In response to the COVID-19 pandemic, the U.S. Environmental Protection Agency (EPA) announced interim guidance to regional offices to "ensure that decisions about new or ongoing cleanup activities at sites across the country are made with the health and safety of communities, state and tribal partners, EPA staff, and contractors as the priority."
COVID-19 AND THE CONTRACTUAL DEFENSES OF IMPOSSIBILITY/IMPRACTICABILITY AND FRUSTRATION OF PURPOSE
April 6, 2020
Even in the absence of a contractual force majeure provision, a non-performing party may be excused from performance or a delay in performance based on the common law defenses of "impossibility/impracticability" or "frustration of purpose".
CONDUCTING BUSINESS AND CONSUMER TRANSACTIONS ELECTRONICALLY WHILE COPING WITH COVID-19
April 1, 2020
With many people working from home during the COVID-19 pandemic, paperless communications, transmissions, records, and transactions are the new reality for many businesses and their employees. But, are these business transactions conducted electronically and that exist solely in digital media legally enforceable?
FORCE MAJEURE CLAUSES AND CONTRACTUAL NONPERFORMANCE AS A RESULT OF COVID-19
March 25, 2020
In light of the novel coronavirus (COVID-19), companies should assess their existing contracts to determine whether they contain a force majeure clause that may excuse or delay a party's nonperformance under the contract. This includes companies indirectly affected as a result of evolving federal, state and local governmental actions.
TAX ISSUES
DUE DATE FOR FILING IOWA PROPERTY TAX PROTESTS EXTENDED TO JUNE 5, 2020 IN ALL 99 COUNTIES
April 17, 2020
Iowa Department of Revenue Director Kraig Paulsen issued Order 2020-02 on April 1, 2020, extending the due date for protesting 2020 property tax assessments.
THREE KEY DATES TO REMEMBER FOR TAX SEASON 2020
Apirl 17, 2020
What dates are important for taxpayers this year? While not an exclusive list of due dates for all Federal and Iowa taxes, the dates of April 30, July 15 and July 31 are key dates to keep in mind.
LITIGATION ISSUES
COVID-19 CREATES NEW DISCOVERY ISSUES IN LITIGATION
May 26, 2020
Because of the way COVID-19 is changing our patterns of communication, there may be more discoverable information in the future thanks to our increased reliance on technological tools for work and socializing.
ISSUES FOR HEALTH CARE PROVIDERS
FEDERAL RELIEF FOR HEALTHCARE PROVIDERS
April 24, 2020
The CARES Act included an appropriation of $100 billion into the Public Health and Social Services Emergency Fund for relief funding for healthcare providers, and the Paycheck Protection Program and Healthcare Enhancement Act passed on April 23rd included an additional $75 billion to this Emergency Fund.
ADDITIONAL DISTRIBUTION FROM CARES ACT PROVIDER RELIEF FUND
April 24, 2020
HHS announced another $20 billion in payments for the CARES Act Provider Relief Fund in addition to the previous allocation of $30 billion.
MEDICARE ACCELERATED AND ADVANCE PAYMENT PROGRAM
April 24, 2020
The CARES Act allows healthcare providers to receive advanced payments to help ensure that providers struggling as a result of COVID-19 have sufficient cash flows to continue to operate.
CARES ACT PROVIDER RELIEF FUND
April 10, 2020
The CARES Act authorized $100 billion for healthcare provider relief related to COVID-19 losses, with an immediate infusion of $30 billion authorized by the Department of Health and Human Services on April 9.
TELEHEALTH, HIPAA, AND COVID-19
March 26, 2020
The federal and state governments have taken steps to increase flexibility for health care providers during the COVID-19 crisis.
ISSUES FOR NONPROFITS
ALTERNATIVES TO IN-PERSON MEETINGS FOR IOWA NONPROFIT CORPORATIONS
March 26, 2020
Nonprofit corporations can proceed with various matters including member meetings and board of directors meetings.
INTELLECTUAL PROPERTY CONSIDERATIONS
USPTO EXTENDS SOME PATENT AND TRADEMARK FILING DEADLINES
April 1, 2020
The United States Patent and Trademark Office published two notices that extend the deadlines for prosecution of certain patent and trademark applications that had a deadline falling between March 27 and April 30, 2020.
Nyemaster Goode has dedicated a team of experienced attorneys in diverse practice areas to monitor and report on the COVID-19 legal situation. Contact your Nyemaster attorney or any attorney on the team for assistance with your specific concerns. Thomas M. Cunningham • Eric N. Fischer • Jason L. Giles • Frances M. Haas • Frank B. Harty • Rod P. Kubat • Stephanie L. Marett • Dustin J. Miller • Alicia R. Nicoletto • Kristina M. Stanger • Jay P. Syverson